Better healthcare.
Unlock your medical knowledge
Dioscope Learning Center
A plataforma pioneira no apoio ao ensino médico em Portugal, chega ao Brasil!

+7000
alunos
Somos pioneiros na educação médica digital e temos alunos em mais de 15 países.
+150 professores
Trabalhamos com os maiores especialistas nacionais e internacionais. Confie em quem já deu provas!
Video-based learning
Os nossos cursos vão desde o primeiro dia de faculdade, até ao último dia do internato médico.
Subscribe
Be the first to know about new courses and discounts
1º CURSO 'STEP-BY-STEP' Brasil
Dermatologia
Pensado para residentes de Dermatologia, este curso tem como objetivo ajudar no dia a dia do ambulatório desta especialidade.
Programação do curso: 30 horas
*Nota: este curso NÃO substitui a residência médica!
Os nossos parceiros
É graças ao seu fantástico apoio que conseguimos reunir os melhores médicos numa única plataforma.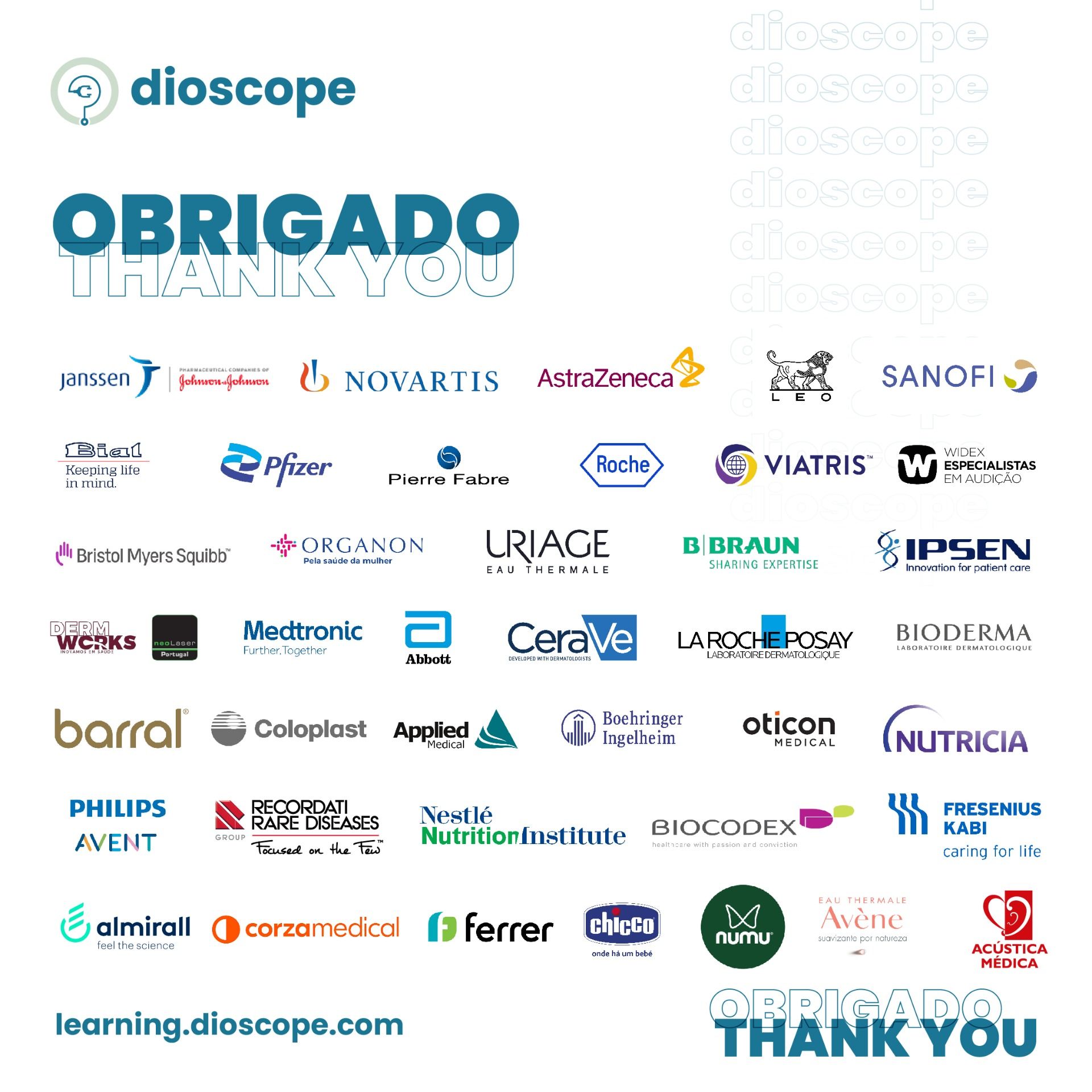 Press/Prémios
European Young Innovators Winners 2020
Best "SME
project" 2020
Portugal Digital Awards
TESTEMUNHOS | Curso Medicina Interna
O que os nossos alunos dizem
Queria agradecer-vos a ajuda preciosa que este curso teve no meu estudo! Numa área em que a matéria a estudar é interminável, foi muito útil para organizar o pensamento e preparar para os principais temas, não nos perdendo em pormenores.
SHEILA J.
Sem dúvida uma mais valia na minha preparação para o exame. Está muito bem estruturado e organizado, as aulas são claras e práticas e estão organizadas de forma muito semelhante - com um padrão para facilitar o estudo e raciocínio.
ISABEL T.
Sem este curso, não creio que o resultado hoje obtido tivesse sido possível. Desde as dicas para a prova curricular, as dicas para a prova prática com as hipóteses diagnósticas estruturadas por sintoma e principalmente os temas teóricos e eBooks foram essenciais para o meu estudo.
José S.